3CX is an innovative PBX phone system that offers a range of features designed to enhance business communication. Its robust functionality includes easy management, remote work support, app-free web conferencing, live chat, and seamless integration with CRM systems. These features allow businesses to streamline their operations, improve customer service, and boost productivity.
Security, Reliability and Local Support
Choosing 4iT as your 3CX provider offers significant advantages. One of the key benefits is the enhanced security provided by hosting the 3CX system on 4iT's private cloud. In an era where data breaches are increasingly common, this level of protection is essential. The private cloud environment ensures that your business data is securely stored and guarded against potential cybersecurity threats.
In addition to enhanced security, 4iT's private cloud hosting also enhances the resilience of the 3CX system. The cloud infrastructure provides redundancy and high availability, ensuring consistent and reliable performance. This means that your business communication can continue uninterrupted, even in the event of unforeseen issues.
4iT's team of IT experts provides comprehensive support for the 3CX system. Their knowledge and experience ensure that any problems are quickly identified and resolved, minimising disruption to your business operations. This level of support also allows for ongoing optimisation of the system, ensuring that it continues to meet your business needs as they evolve.
To summarize, purchasing the 3CX PBX phone system from 4iT and hosting it on their private cloud offers a secure, reliable, and resilient solution for your business communication needs. Whether you're a small business looking to improve your communication capabilities or a medium-sized enterprise seeking a scalable and efficient solution, 3Cx via 4iT could be the perfect choice.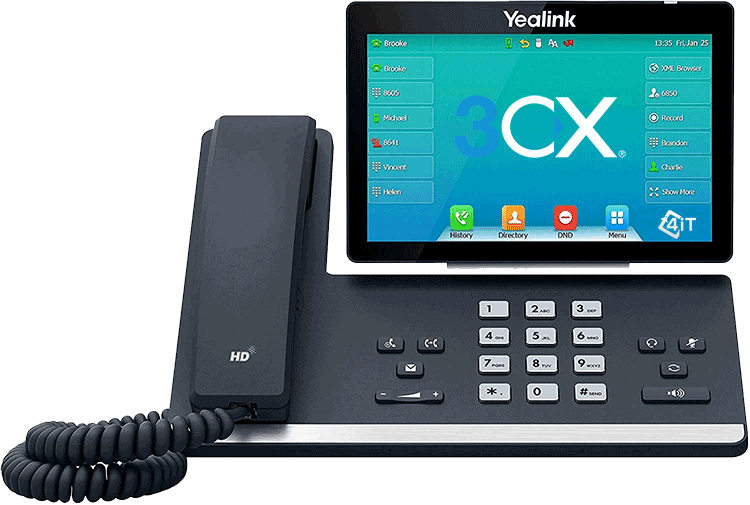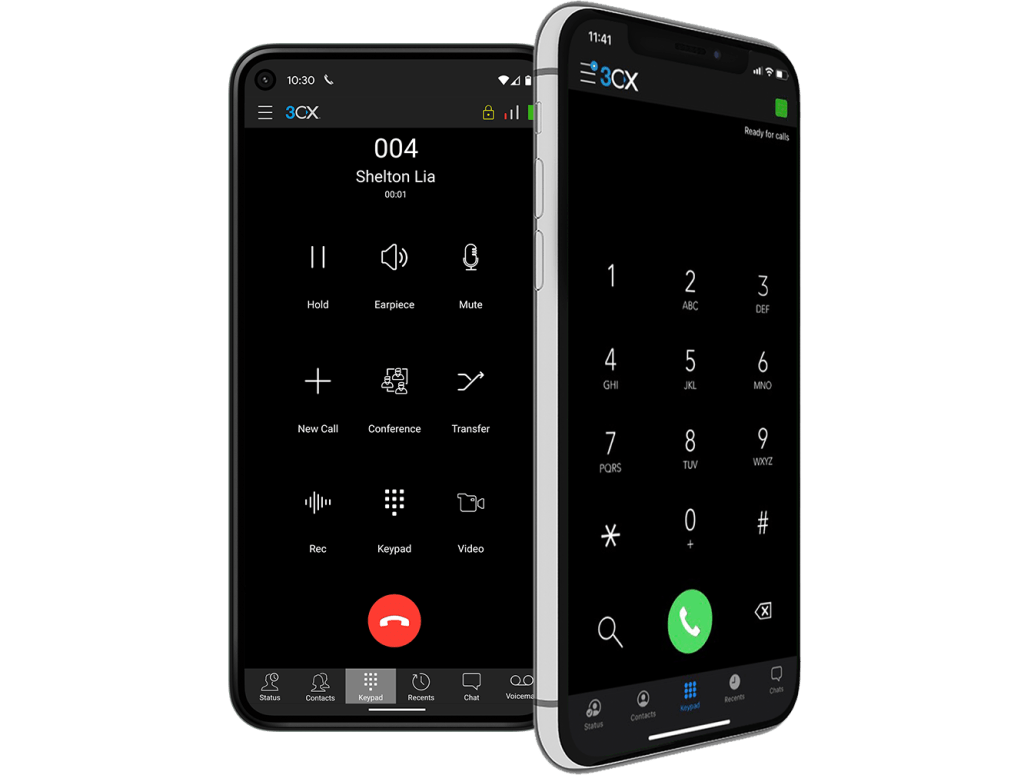 3CX Apps for Apple and Anroid devices
Experience seamless communication with the 3CX Apps for Android and iOS devices.
Stay connected and productive wherever you are with features like video conferencing, instant messaging, and chat.


Answer WhatsApp messages effortlessly while also enjoying conference calls and making free VoIP calls from your smartphone. 


Rest easy knowing that your communications are encrypted and secure.
 

Take control of your communication needs with the confidence that comes from the 3CX Apps.
Web Client / Desktop Apps
Discover the power of our intuitive and accessible web client and desktop apps.
Effortlessly work from anywhere with our multifunctional web app, complete with inclusive Unified Communications (UC) features.


Streamline your communication process by making calls directly from your browser and effortlessly managing your IP phone or smartphone.


Stay on top of customer inquiries by easily answering live chats, WhatsApp messages, and SMS all from one unified interface.


Experience the convenience of instant video conferencing with just a click of a button.


Enhance your calling experience with our dedicated desktop app.


Integrate seamlessly with your CRM to launch calls directly from within your workflow.


Experience a seamless connection with Microsoft 365, ensuring a smooth transition and collaboration across your tools.


Keep track of your team's availability and status with ease.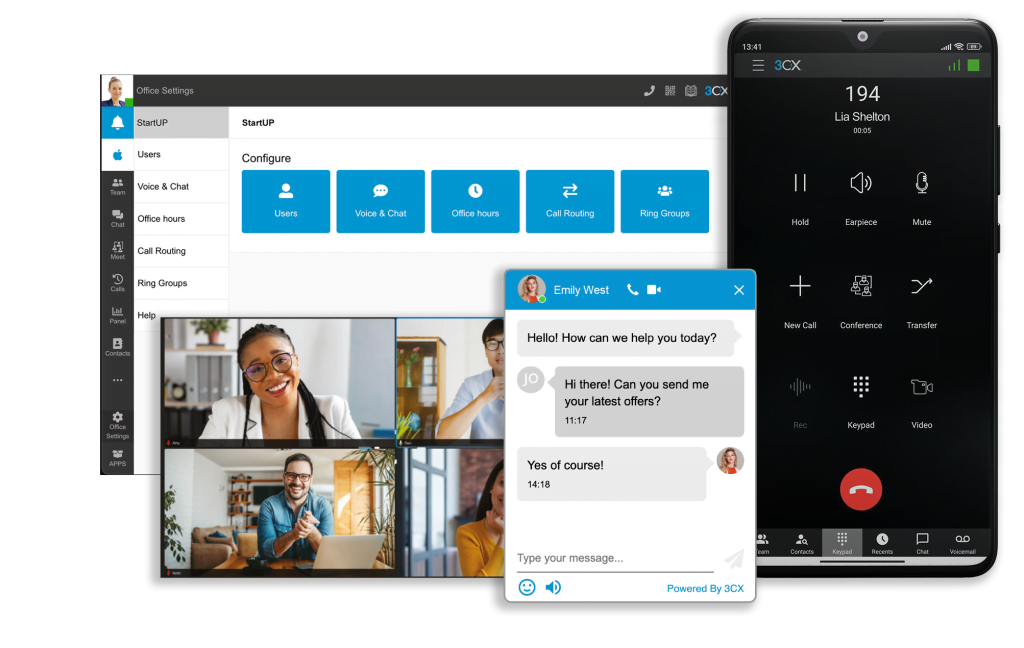 Yealink T5 Series
Yealink T4 Series
Yealink T3 Series
DECT Phones
Conference Phones
Headsets
Yealink T5 Series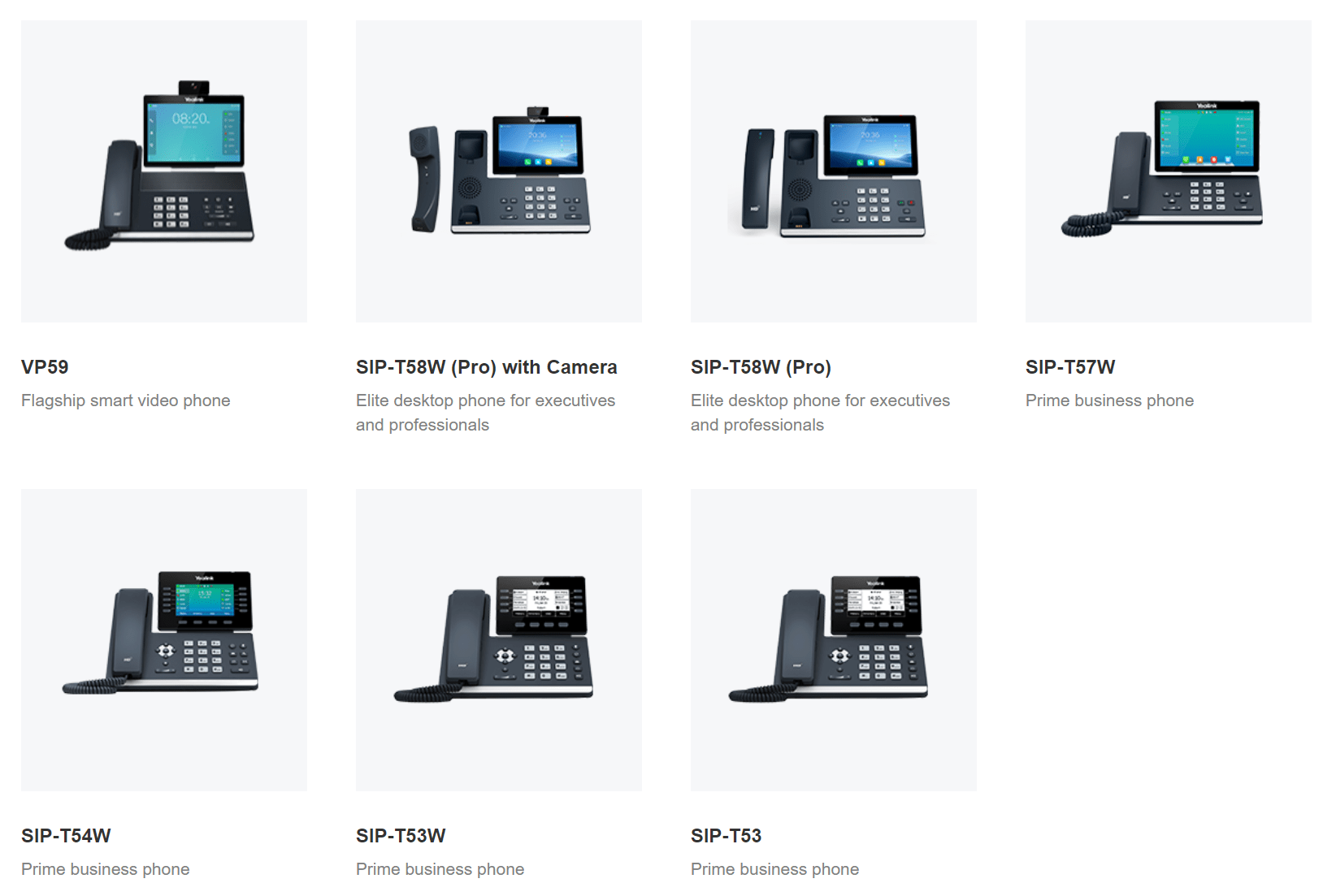 Yealink T4 Series
Yealink T3 Series
DECT Phones
Conference Phones
Headsets
Take your customer communications to the next level
Chat directly with your customers on your website


Create customised chat queues


Easily answer messages from either your web client or the 3CX App


Transfer chats to other team members for seamless collaboration


With just one click, you can elevate a chat to a call or even a video conversation.


Stay in control with chat reporting and take advantage of the chat monitoring feature for managers.
Unlock the power of WhatsApp integration.
Take control of your WhatsApp messages all in one platform


Ensure compliance with company policies as all messages are logged.


Your staff can maintain privacy by not sharing their personal WhatsApp numbers.


Conveniently keep all chat conversations logged centrally


Distribute the workload by sending WhatsApp messages to a queue of agents.
Effortless call journaling: Keep track of every customer interaction with ease.


Streamlined customer record creation: Automatically generate new customer records for incoming numbers.
Time-saving agent search: Say goodbye to wasted time searching for customer information.


Comprehensive chat journaling: Capture all chat interactions when using 3CX Live Chat.


Seamless call logging: Your CRM records will always reflect your call history, even when using 3CX Apps.
High end service minus the cost
3CX Hotel solution is designed to streamline internal and guest communication. Enjoy features like:
Seamless check-in/out for guests


Personalised extensions to match guest names


Convenient billing for external calls


Reliable wake-up call scheduling


Ability to block external calls in vacant rooms
When it comes to VoIP security, 3CX managed by 4iT sets the standard
Enhanced Web Server Security and Automatic Attack Detection


Strengthened security measures for web servers


Detects and blacklists potential SIP attack tools automatically


Global IP blocklist that updates itself for participating PBXs


All communication to 3CX apps is encrypted through the 3CX Tunnel


Voice traffic is securely encrypted with SRTP


Streamlined SSL certificate generation and management


Achieved top ratings from Qualys Labs and Immunilabs


Instant backup provided by automatic failover system


HTTPS encryption guarantees secure connection between browser and website


Restricted access to 3CX management console based on IP
Safeguard privacy by keeping personal mobile numbers confidential
Elevate Your Business Communication with SMS/MMS Services


Seamlessly connect with your customers through SMS/MMS messaging


Ensure prompt responses by routing messages to multiple agents
Frequently Asked Questions
3CX is an innovative, software-based PBX system that adheres to open standards, designed to work harmoniously with popular SIP trunk providers and IP phones. This enables the creation of a fully functional IP PBX replete with a comprehensive set of features. However, it's crucial to distinguish that while 3CX operates under open standards, it is not considered open-source software. Unlike open-source software like Asterisk, which is a complimentary framework for building custom communication systems where anyone can modify or enhance its source code, 3CX does not offer public access to its source code for modifications. 3CX was developed by an international VoIP IP PBX software development technology company, and despite its compatibility with open standards, it does not fall under the category of open-source software. This distinction is paramount when evaluating communication solutions for your organisation.
Several phone handsets are compatible with the 3CX system, providing businesses a wide span of options to choose from based on their specific needs. Renowned manufacturers such as Fanvil, Snom, Grandstream, and Avaya offer an array of models that work seamlessly with 3CX. For instance, Fanvil's X and XU series, as well as their Hotel Series, are supported by 3CX. Similarly, Snom's D7 Series and Grandstream's GRP2614 and GRP2616 models are also compatible. However, at our company, we primarily utilize Yealink handsets. Yealink has earned an exceptional reputation in the industry for their superior quality, reliability, and advanced features. Models like the Yealink T46S, T53, T56, and T54S are not only compatible with 3CX but have consistently proven to deliver high performance, making them our preferred choice.
Choosing to purchase and host your 3CX system through 4IT offers a myriad of advantages, particularly when it comes to hosting on a private cloud. A private cloud environment ensures dedicated resources, enhancing security and performance by preventing the sharing of resources with other users. This leads to an efficient, high-performing system that greatly reduces the risk of data breaches or service interruptions.
In addition, entrusting the management of the 3CX system to 4IT allows businesses to leverage the expertise of a specialised IT team. This ensures that your telecommunication systems are always up to date, secure, and running optimally, allowing you to focus on your core business operations. Furthermore, 4IT's management includes regular maintenance, troubleshooting, and updates, which can significantly reduce downtime and ensure business continuity.