To set up email forwarding in Office 365 to an external email address without creating a mailbox please follow these instructions:
Step 1. Log in to Office 365
Go to http://portal.microsoftonline.com
Step 2. Go to Exchange Admin
On the left sidebar under Admin click on Exchange
Step 3. Create a New Mail User
Click on Recipients in the left sidebar
Click on Contacts
Click on the arrow next to the + and Choose Mail User

Step 4. Fill in the New User Details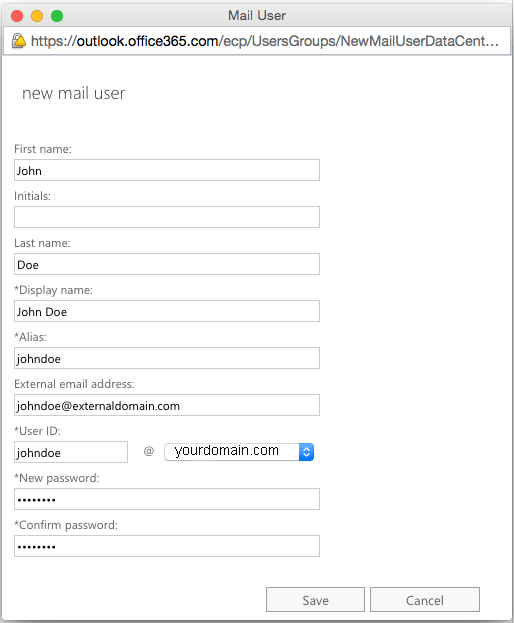 Fill in all the relevant details:
First Name
Last Name
Alias – make this the same as the User ID
External Email Address – the email address you want to forward the email to
User ID – The Internal email address you want to forward from
Password – Not important as it won't be used anyway but still make sure it's secure
Step 5. Wait – IMPORTANT!
As with any task on Office 365 you can try out your new forwarding address straight away but it may not work immediately.  Sometimes Office 365 can take some time (an hour or two) to recognise changes in the system for some tasks.
Conclusion
Although the process of forwarding an internal Office 365 address to an external email address without a mailbox is simple enough to complete when you know how to, finding the correct section in the ECP can be misleading as there isn't a simple "Forwarding" section.