When a business has decided to start transitioning towards the cloud, more often than not users will want to continue to use the Microsoft Office Suite including Outlook for email, calendar and tasks unless your company wants to embrace the cloud completely and move to browser based email.  If your company relies heavily on using Tasks and To Do's in Outlook and has ultimately decided to use Google Apps for Business there are a few caveats that you must be aware of so there are no surprises after the migration, especially if there is a feature missing in Outlook that your company decides is a deal breaker.
In this article we are going to take a look at some of the existing features in Outlook Tasks and To-do's which don't work well with Google Apps for Business using Google Apps Sync for Outlook.
Outlook Tasks and Auto Regeneration for Recurring Tasks using Google Apps for Business
Recurring tasks which auto generate when marked as complete do not synchronise across the web and multiple devices.
For example – let's say we create a recurring task called End of Month Tasks in Outlook.  At the end of each month we mark it as complete and it auto generates a new task for the end of next month.
From the Computer with Outlook which created the task – the task is auto generated as expected when marked as complete.

Google Calendar & Other Devices – the new task is generated and syncs as a single non recurring task.
Now providing that you always mark the task as completed from the Outlook which created the task all will work ok.  Where the caveat exists is if you mark the item as complete from any other device, gmail interface or copy of outlook on a different computer it will mark the task as complete across all devices, it will be not auto regenerated and will disappear completely.
Marking Emails and Other Items for Follow Up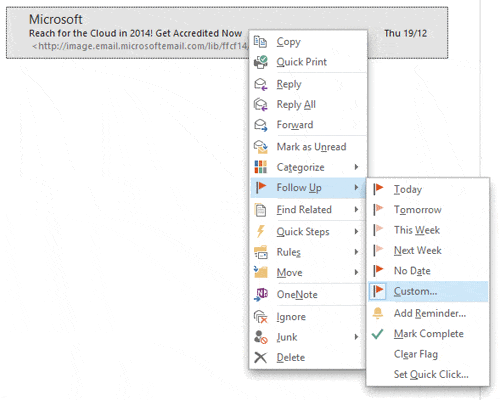 This is a feature that many don't use but some just can't live without.  You right click on an email and choose to follow it up on a set date later on.  When you go to your task list it is there waiting for you to follow up.
On Other computers using outlook – The follow up is still available with No date attached to it. (It is odd that this works and should not be relied upon.  It should be assumed that as with other devices, the follow up will not be visible)
On Google Calendar and Other Devices – The follow up will not be visible
Other Tasks Features not available in Outlook (officially from Google)
Modify start dates, progress status, or reminders. The Gmail Task gadget doesn't store start dates or reminders, or sync them with your other Outlook clients. But you can still add this information in Outlook directly.
View or add categories. Again, Google Apps doesn't have categories or sync them with your other devices. But you can still use them directly in Outlook.
Create Task subfolders. Gmail's Task gadget doesn't nest Task lists, nor does it sync nested lists with other Outlook clients. So if you want Task subfolders, you'll need to create them in Outlook directly.
Moving Outlook to a New Computer
If you need to move outlook to a new computer auto generated tasks will need to be set up again once your new computer has downloaded the information from Google's Servers.  Additionally any emails which you have marked for follow up will disappear completely.  Why? An outlook PST can not be moved from one computer and set up to sync again with Google Apps for Business – it must be re downloaded from Google's servers.  Don't believe me?  Give it a go and see what happens 🙂